His Divine Power - Part 4 (2 Peter 1:1-5)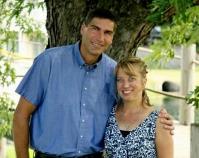 Bob Schultz, February 5, 2012
Part of the
2 Peter
series, preached at a
Sunday Morning
service
Today we will study four practical ways to make certain of God's calling and choosing of you so that we would have the assurance of salvation. The sweet fruit of assurance belongs to those who are truly growing in practical obedience and service .

2 Peter 1:1–5 (Listen)
1:1 Simeon Peter, a servant and apostle of Jesus Christ,
To those who have obtained a faith of equal standing with ours by the righteousness of our God and Savior Jesus Christ:
2 May grace and peace be multiplied to you in the knowledge of God and of Jesus our Lord.
3 His divine power has granted to us all things that pertain to life and godliness, through the knowledge of him who called us to his own glory and excellence, 4 by which he has granted to us his precious and very great promises, so that through them you may become partakers of the divine nature, having escaped from the corruption that is in the world because of sinful desire. 5 For this very reason, make every effort to supplement your faith with virtue, and virtue with knowledge,
(