The Christ of Christmas - Part 3 (Luke 11:9-13, 1 Timothy 1:15-16, Luke 7:11-13, Luke 22:24-30, John 2:13-17)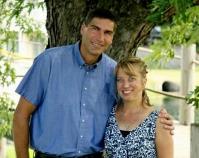 Bob Schultz, December 21, 2014
Part of the
Advent
series, preached at a
Sunday Morning
service
This week we continue our study, "The Christ of Christmas," by looking at five more attributes of Christ so that we would again be reminded about the Christ of Christmas; in order that we would be conformed to the image of Christ for the glory of God.
Luke 11:9–13 (Listen)
9 And I tell you, ask, and it will be given to you; seek, and you will find; knock, and it will be opened to you. 10 For everyone who asks receives, and the one who seeks finds, and to the one who knocks it will be opened. 11 What father among you, if his son asks for a fish, will instead of a fish give him a serpent; 12 or if he asks for an egg, will give him a scorpion? 13 If you then, who are evil, know how to give good gifts to your children, how much more will the heavenly Father give the Holy Spirit to those who ask him!"
(
1 Timothy 1:15–16 (Listen)
15 The saying is trustworthy and deserving of full acceptance, that Christ Jesus came into the world to save sinners, of whom I am the foremost. 16 But I received mercy for this reason, that in me, as the foremost, Jesus Christ might display his perfect patience as an example to those who were to believe in him for eternal life.
(ESV)
Luke 7:11–13 (Listen)
11 Soon afterward he went to a town called Nain, and his disciples and a great crowd went with him. 12 As he drew near to the gate of the town, behold, a man who had died was being carried out, the only son of his mother, and she was a widow, and a considerable crowd from the town was with her. 13 And when the Lord saw her, he had compassion on her and said to her, "Do not weep."
(ESV)
Luke 22:24–30 (Listen)
24 A dispute also arose among them, as to which of them was to be regarded as the greatest. 25 And he said to them, "The kings of the Gentiles exercise lordship over them, and those in authority over them are called benefactors. 26 But not so with you. Rather, let the greatest among you become as the youngest, and the leader as one who serves. 27 For who is the greater, one who reclines at table or one who serves? Is it not the one who reclines at table? But I am among you as the one who serves.
28 "You are those who have stayed with me in my trials, 29 and I assign to you, as my Father assigned to me, a kingdom, 30 that you may eat and drink at my table in my kingdom and sit on thrones judging the twelve tribes of Israel.
(ESV)
John 2:13–17 (Listen)
13 The Passover of the Jews was at hand, and Jesus went up to Jerusalem. 14 In the temple he found those who were selling oxen and sheep and pigeons, and the money-changers sitting there. 15 And making a whip of cords, he drove them all out of the temple, with the sheep and oxen. And he poured out the coins of the money-changers and overturned their tables. 16 And he told those who sold the pigeons, "Take these things away; do not make my Father's house a house of trade." 17 His disciples remembered that it was written, "Zeal for your house will consume me."
(ESV)