Tales vs. Truth (2 Peter 1:16-18)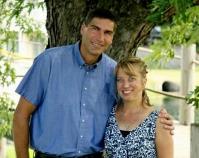 Bob Schultz, March 4, 2012
Part of the
2 Peter
series, preached at a
Sunday Morning
service
Today Peter will answer the lie that Christianity is a myth with no basis in reality by making three main points: the fallacy of false tales, the fact of eye witness testimony, and the fact of God's testimony; so that we would know our faith is not based on tales but on truth. Praise God today that our faith is based on the eyewitness testimony of reliable sources.

2 Peter 1:16–18 (Listen)
16 For we did not follow cleverly devised myths when we made known to you the power and coming of our Lord Jesus Christ, but we were eyewitnesses of his majesty. 17 For when he received honor and glory from God the Father, and the voice was borne to him by the Majestic Glory, "This is my beloved Son, with whom I am well pleased," 18 we ourselves heard this very voice borne from heaven, for we were with him on the holy mountain.
(