The Living Word - Part 2 (Hebrews 4:12, John 8:22-24)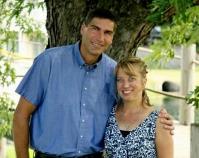 Bob Schultz, November 22, 2015
Part of the
Book of Hebrews
series, preached at a
Sunday Morning
service
This week will be our second message titled, "The Living Word," from Hebrews 4:12. We are undertaking a five week series of messages that defends and examines the unique nature of Scripture's own claim that it is "Truth, the very Word of God," that it is "living and active," supernatural in its origin. This week the focus will be on four reasons you can believe in a divinely inspired Bible so that our faith would be strengthened as we live and work and associate with many who do not believe the Bible.
Hebrews 4:12 (Listen)
12 For the word of God is living and active, sharper than any two-edged sword, piercing to the division of soul and of spirit, of joints and of marrow, and discerning the thoughts and intentions of the heart.
(
John 8:22–24 (Listen)
22 So the Jews said, "Will he kill himself, since he says, 'Where I am going, you cannot come'?" 23 He said to them, "You are from below; I am from above. You are of this world; I am not of this world. 24 I told you that you would die in your sins, for unless you believe that I am he you will die in your sins."
(ESV)