A Race of Faith part 2 (Hebrews 12:2-3)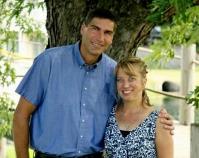 Bob Schultz, February 5, 2017
Part of the
Book of Hebrews
series, preached at a
Sunday Morning
service
Today we will study the supreme example to be followed by Christians- Jesus Christ -in order that we would run the Christian race with endurance and not grow weary and lose heart.
Hebrews 12:2–3 (Listen)
2 looking to Jesus, the founder and perfecter of our faith, who for the joy that was set before him endured the cross, despising the shame, and is seated at the right hand of the throne of God.
3 Consider him who endured from sinners such hostility against himself, so that you may not grow weary or fainthearted.
(