Learning and Living part 7 (Hebrews 13:10-13)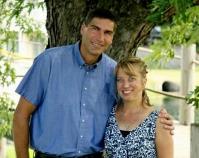 Bob Schultz, May 28, 2017
Part of the
Book of Hebrews
series, preached at a
Sunday Morning
service
Today we will study the very difficult subject of Biblical separation so that we would not confuse the clear testimony of the Bible, the person and work of Christ, or the church.
Hebrews 13:10–13 (Listen)
10 We have an altar from which those who serve the tent have no right to eat. 11 For the bodies of those animals whose blood is brought into the holy places by the high priest as a sacrifice for sin are burned outside the camp. 12 So Jesus also suffered outside the gate in order to sanctify the people through his own blood. 13 Therefore let us go to him outside the camp and bear the reproach he endured.
(