Final Words (Ephesians 6:23-24)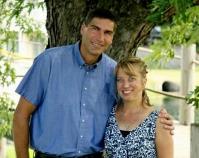 Bob Schultz, June 16, 2019
Part of the
Ephesians
series, preached at a
Sunday Morning
service
Today we develop the theology of Paul's final benediction in Ephesians so that we would know peace, love, faith, and grace, all of which come from God and produce incorruptible love.
Ephesians 6:23–24 (Listen)
23 Peace be to the brothers, and love with faith, from God the Father and the Lord Jesus Christ. 24 Grace be with all who love our Lord Jesus Christ with love incorruptible.
(