Why Go To Church? - Part 8 (Ephesians 4:14-16)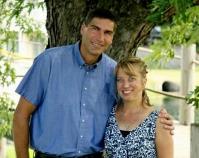 Bob Schultz, June 28, 2015
Part of the
Sunday Messages
series, preached at a
Sunday Morning
service
This week, we will continue our series titled, "Why Go to Church?" by studying two more outcomes of Christian maturity by looking at Ephesians 4:13-16. When people in church are being taught God's Word they grow to maturity and are not in danger of being moved away from the truth by bad teaching and false doctrine. In addition, when believers come to maturity they speak the truth in love to others so that they in turn could be part of this process of bearing fruit with the end goal of building up the body of Christ.
Ephesians 4:14–16 (Listen)
14 so that we may no longer be children, tossed to and fro by the waves and carried about by every wind of doctrine, by human cunning, by craftiness in deceitful schemes. 15 Rather, speaking the truth in love, we are to grow up in every way into him who is the head, into Christ, 16 from whom the whole body, joined and held together by every joint with which it is equipped, when each part is working properly, makes the body grow so that it builds itself up in love.
(