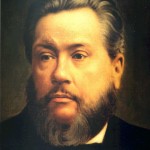 "Merely to read words is nothing: the letter kills.  The business of the believer with his Bible open is to pray, "Lord, give me the meaning and spirit of your word, while it lies open before me; apply your word with power to my soul, threatening or promise, doctrine or precept, whatever it may be; lead me into the soul and marrow of your word. In your private devotions, strive after vital godliness, real soul-work, the life-giving operation of the Spirit of God in your hearts." ~ From Charles Spurgeon's 1867 sermon "A Song at the Well-head
Join us in reading the entire Bible over the course of a year.  Each day, this site will offer a daily reading from the Old Testament, the New Testament, a Psalm, and a Proverb. Dedicate about 15 minutes each day to spend time in God's Word. The Scripture lessons are taken from the English Standard Version (ESV).
The following reading plans are resources designed to help you read the Bible daily.
ESV Study Bible: Includes readings from four sections of the Bible each day: the Psalms and Wisdom Literature, Pentateuch and History of Israel, Chronicles and Prophets, and Gospels and Epistles.
Daily Word: The popular reading plan features a reading from the Old Testament, New Testament, Psalms, and Proverbs each day. This plan divides the text into 365 sections, so you can read through the entire Bible in one unforgettable year – in as little as 15 minutes a day.  In one year, you read the Old Testament, New Testament, and Proverbs once, and the Psalms twice.