A High View of Marriage part 3 (Hebrews 13:4)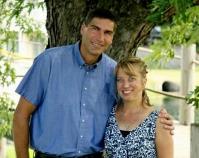 Bob Schultz, April 23, 2017
Part of the
Book of Hebrews
series, preached at a
Sunday Morning
service
Today is our third message in this series titled, "A High View of Marriage from Hebrews 13:4. We will concentrate on the unique role that God has given the Christian wife so that our marriages would be strengthened.
Hebrews 13:4 (Listen)
4 Let marriage be held in honor among all, and let the marriage bed be undefiled, for God will judge the sexually immoral and adulterous.
(