Introduction to Ephesians part 1 (Matthew 16:16-18)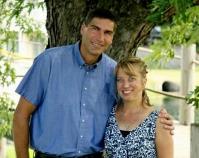 Bob Schultz, August 27, 2017
Part of the
Ephesians
series, preached at a
Sunday Morning
service
Today will be our first message introducing the book of Ephesians as we think deeply about a Biblical view of the church.
Matthew 16:16–18 (Listen)
16 Simon Peter replied, "You are the Christ, the Son of the living God." 17 And Jesus answered him, "Blessed are you, Simon Bar-Jonah! For flesh and blood has not revealed this to you, but my Father who is in heaven. 18 And I tell you, you are Peter, and on this rock I will build my church, and the gates of hell shall not prevail against it.
(