Marriage as God Intended part 3 (Ephesians 5:31-33)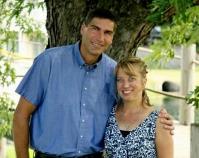 Bob Schultz, October 21, 2018
Part of the
Ephesians
series, preached at a
Sunday Morning
service
Today we will continue to speak about marriage and the role of the husband, marriage as a new family, and one more important role of the wife in marriage, so that we would have marriages that are a picture of Christ's love for the church.
Ephesians 5:31–33 (Listen)
31 "Therefore a man shall leave his father and mother and hold fast to his wife, and the two shall become one flesh." 32 This mystery is profound, and I am saying that it refers to Christ and the church. 33 However, let each one of you love his wife as himself, and let the wife see that she respects her husband.
(