The Second Coming of Jesus - Part 5 (2 Peter 3:17-18)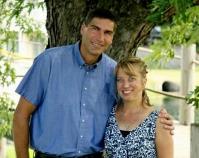 Bob Schultz, July 1, 2012
Part of the
2 Peter
series, preached at a
Sunday Morning
service
Today we will study three points in conclusion to remind us of the purpose of this letter.
1. Be on guard v.17
2. Grow in grace v.18
3. Give Jesus Christ glory v.18b
As we conclude II Peter, may we be growing in the grace and knowledge of Jesus Christ for the glory of God.

2 Peter 3:17–18 (Listen)
17 You therefore, beloved, knowing this beforehand, take care that you are not carried away with the error of lawless people and lose your own stability. 18 But grow in the grace and knowledge of our Lord and Savior Jesus Christ. To him be the glory both now and to the day of eternity. Amen.
(