Deceptions & Defections part 3 (1 John 2:25-27)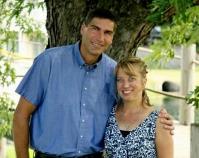 Bob Schultz, February 16, 2020
Part of the
I John
series, preached at a
Sunday Morning
service
Today we will remind ourselves about the danger of deceptive teaching in the church. In addition we will consider again the promise of eternal life and the reality we have the Holy Spirit to teach us truth from error.
1 John 2:25–27 (Listen)
25 And this is the promise that he made to us—eternal life.
26 I write these things to you about those who are trying to deceive you. 27 But the anointing that you received from him abides in you, and you have no need that anyone should teach you. But as his anointing teaches you about everything, and is true, and is no lie—just as it has taught you, abide in him.
(