Saying Faith or Saving Faith (1 John 1:5-7)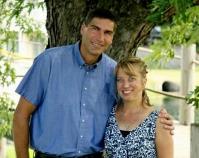 Bob Schultz, September 1, 2019
Part of the
I John
series, preached at a
Sunday Morning
service
Today we will consider the Biblical description God is light and develop the first test of saving faith so that we would have true fellowship with God and with other believers; so as not be deceived about our spiritual state.
1 John 1:5–7 (Listen)
5 This is the message we have heard from him and proclaim to you, that God is light, and in him is no darkness at all. 6 If we say we have fellowship with him while we walk in darkness, we lie and do not practice the truth. 7 But if we walk in the light, as he is in the light, we have fellowship with one another, and the blood of Jesus his Son cleanses us from all sin.
(