Five Marks of a Great Church (2 Thessalonians 1:3-5)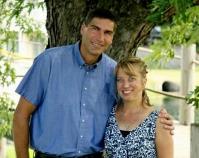 Bob Schultz, September 16, 2012
Part of the
2 Thessalonians
series, preached at a
Sunday Morning
service
Today we are going to learn about five characteristics of a great church so that God would produce all these things in our church.
1. Paul was thankful to God for the people.
2. Paul was thankful their faith was growing.
3. Paul was thankful their love was growing.
4. Paul was thankful they were persevering in persecution.
5. Paul was thankful they had an eternal perspective.
May we be practicing all these things at Calvary Bible Church.
2 Thessalonians 1:3–5 (Listen)
3 We ought always to give thanks to God for you, brothers, as is right, because your faith is growing abundantly, and the love of every one of you for one another is increasing. 4 Therefore we ourselves boast about you in the churches of God for your steadfastness and faith in all your persecutions and in the afflictions that you are enduring.
5 This is evidence of the righteous judgment of God, that you may be considered worthy of the kingdom of God, for which you are also suffering—
(