True Worship (Mark 7:6-7, John 4:24, Romans 12:1)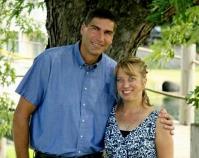 Bob Schultz, February 16, 2014
Part of the
Gospel of Mark
series, preached at a
Sunday Morning
service
Today we will study the positive side of vain worship which is true worship. The Bible will teach us that worship is when we ascribe ultimate worth to someone or something. True worship starts in the inner part of man, the spirit, is informed by the Word of God, and leads to an action. All of this is important because the Bible says God seeks true worshipers and true worship is acceptable to God. May we learn these important lessons so that our individual and corporate worship would be acceptable to God.
Mark 7:6–7 (Listen)
6 And he said to them, "Well did Isaiah prophesy of you hypocrites, as it is written,
"'This people honors me with their lips,
but their heart is far from me;
7 in vain do they worship me,
teaching as doctrines the commandments of men.'

(
24 God is spirit, and those who worship him must worship in spirit and truth."
(ESV)
Romans 12:1 (Listen)
12:1 I appeal to you therefore, brothers, by the mercies of God, to present your bodies as a living sacrifice, holy and acceptable to God, which is your spiritual worship.
(ESV)