The Lord's Supper (Luke 22:14-19, Mark 14:22-25, 1 Corinthians 11:27-32, Psalm 51:1-10)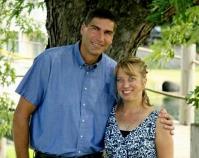 Bob Schultz, October 12, 2014
Part of the
Sunday Messages
series, preached at a
Sunday Morning
service
This week we will consider the profound implications of partaking in Lord's Supper. We will look back at the Old Covenant Passover as it gave people a foreshadowing of what was to come in the New Covenant. In addition to the theological side of the Lord's Supper, we will consider what our response should be each time we eat and drink together. The importance of all of this cannot be overstated in any true church as we will see from the Bible itself (I Corinthians 11:23-32).
Luke 22:14–19 (Listen)
14 And when the hour came, he reclined at table, and the apostles with him. 15 And he said to them, "I have earnestly desired to eat this Passover with you before I suffer. 16 For I tell you I will not eat it until it is fulfilled in the kingdom of God." 17 And he took a cup, and when he had given thanks he said, "Take this, and divide it among yourselves. 18 For I tell you that from now on I will not drink of the fruit of the vine until the kingdom of God comes." 19 And he took bread, and when he had given thanks, he broke it and gave it to them, saying, "This is my body, which is given for you. Do this in remembrance of me."
(
Mark 14:22–25 (Listen)
22 And as they were eating, he took bread, and after blessing it broke it and gave it to them, and said, "Take; this is my body." 23 And he took a cup, and when he had given thanks he gave it to them, and they all drank of it. 24 And he said to them, "This is my blood of the covenant, which is poured out for many. 25 Truly, I say to you, I will not drink again of the fruit of the vine until that day when I drink it new in the kingdom of God."
(ESV)
1 Corinthians 11:27–32 (Listen)
27 Whoever, therefore, eats the bread or drinks the cup of the Lord in an unworthy manner will be guilty concerning the body and blood of the Lord. 28 Let a person examine himself, then, and so eat of the bread and drink of the cup. 29 For anyone who eats and drinks without discerning the body eats and drinks judgment on himself. 30 That is why many of you are weak and ill, and some have died. 31 But if we judged ourselves truly, we would not be judged. 32 But when we are judged by the Lord, we are disciplined so that we may not be condemned along with the world.
(ESV)
Psalm 51:1–10 (Listen)
To the choirmaster. A Psalm of David, when Nathan the prophet went to him, after he had gone in to Bathsheba.
51:1 Have mercy on me, O God,
according to your steadfast love;
according to your abundant mercy
blot out my transgressions.
2 Wash me thoroughly from my iniquity,
and cleanse me from my sin!
3 For I know my transgressions,
and my sin is ever before me.
4 Against you, you only, have I sinned
and done what is evil in your sight,
so that you may be justified in your words
and blameless in your judgment.
5 Behold, I was brought forth in iniquity,
and in sin did my mother conceive me.
6 Behold, you delight in truth in the inward being,
and you teach me wisdom in the secret heart.
7 Purge me with hyssop, and I shall be clean;
wash me, and I shall be whiter than snow.
8 Let me hear joy and gladness;
let the bones that you have broken rejoice.
9 Hide your face from my sins,
and blot out all my iniquities.
10 Create in me a clean heart, O God,
and renew a right spirit within me.

(ESV)