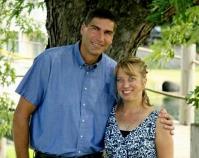 Bob Schultz, November 9, 2014
Part of the
Sunday Messages
series, preached at a
Sunday Morning
service
This Sunday as we partake of the Lord's Supper and share our Thanksgiving potluck together, we are going to spend a week on the subject of being thankful Christians. This is so important because the Bible says to be in the will of God we are to be thankful in everything. There is no better time to think about this subject than during our American Thanksgiving season.
In addition, we will think about the Lord's Supper in the context of being thankful.
1 Thessalonians 5:18 (Listen)
18 give thanks in all circumstances; for this is the will of God in Christ Jesus for you.
(
2 Corinthians 9:15 (Listen)
15 Thanks be to God for his inexpressible gift!
(ESV)
2 Corinthians 5:17 (Listen)
17 Therefore, if anyone is in Christ, he is a new creation. The old has passed away; behold, the new has come.
(ESV)