The Christ of Christmas - Part 2 (Hebrews 13:8, Matthew 8:23-27, John 1:43-49, Luke 4:31-34, Romans 3:21, Luke 23:4, Matthew 11:29-30, Luke 23:34, 1 John 4:9-17)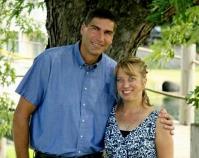 Bob Schultz, December 14, 2014
Part of the
Advent
series, preached at a
Sunday Morning
service
This Sunday we continue our study titled, "The Christ of Christmas" by looking in some detail at key the attributes of Christ. In theology proper, the attributes of God form the basis of sound doctrine and are given primary attention; but often neglected are the attributes of Christ. For the next two weeks, we will concentrate on this important key that unlocks the glory of Christ in our lives practically.
Hebrews 13:8 (Listen)
8 Jesus Christ is the same yesterday and today and forever.
(
Matthew 8:23–27 (Listen)
23 And when he got into the boat, his disciples followed him. 24 And behold, there arose a great storm on the sea, so that the boat was being swamped by the waves; but he was asleep. 25 And they went and woke him, saying, "Save us, Lord; we are perishing." 26 And he said to them, "Why are you afraid, O you of little faith?" Then he rose and rebuked the winds and the sea, and there was a great calm. 27 And the men marveled, saying, "What sort of man is this, that even winds and sea obey him?"
(ESV)
John 1:43–49 (Listen)
43 The next day Jesus decided to go to Galilee. He found Philip and said to him, "Follow me." 44 Now Philip was from Bethsaida, the city of Andrew and Peter. 45 Philip found Nathanael and said to him, "We have found him of whom Moses in the Law and also the prophets wrote, Jesus of Nazareth, the son of Joseph." 46 Nathanael said to him, "Can anything good come out of Nazareth?" Philip said to him, "Come and see." 47 Jesus saw Nathanael coming toward him and said of him, "Behold, an Israelite indeed, in whom there is no deceit!" 48 Nathanael said to him, "How do you know me?" Jesus answered him, "Before Philip called you, when you were under the fig tree, I saw you." 49 Nathanael answered him, "Rabbi, you are the Son of God! You are the King of Israel!"
(ESV)
Luke 4:31–34 (Listen)
31 And he went down to Capernaum, a city of Galilee. And he was teaching them on the Sabbath, 32 and they were astonished at his teaching, for his word possessed authority. 33 And in the synagogue there was a man who had the spirit of an unclean demon, and he cried out with a loud voice, 34 "Ha! What have you to do with us, Jesus of Nazareth? Have you come to destroy us? I know who you are—the Holy One of God."
(ESV)
Romans 3:21 (Listen)
21 But now the righteousness of God has been manifested apart from the law, although the Law and the Prophets bear witness to it—
(ESV)
4 Then Pilate said to the chief priests and the crowds, "I find no guilt in this man."
(ESV)
Matthew 11:29–30 (Listen)
29 Take my yoke upon you, and learn from me, for I am gentle and lowly in heart, and you will find rest for your souls. 30 For my yoke is easy, and my burden is light."
(ESV)
Luke 23:34 (Listen)
34 And Jesus said, "Father, forgive them, for they know not what they do." And they cast lots to divide his garments.
(ESV)
1 John 4:9–17 (Listen)
9 In this the love of God was made manifest among us, that God sent his only Son into the world, so that we might live through him. 10 In this is love, not that we have loved God but that he loved us and sent his Son to be the propitiation for our sins. 11 Beloved, if God so loved us, we also ought to love one another. 12 No one has ever seen God; if we love one another, God abides in us and his love is perfected in us.
13 By this we know that we abide in him and he in us, because he has given us of his Spirit. 14 And we have seen and testify that the Father has sent his Son to be the Savior of the world. 15 Whoever confesses that Jesus is the Son of God, God abides in him, and he in God. 16 So we have come to know and to believe the love that God has for us. God is love, and whoever abides in love abides in God, and God abides in him. 17 By this is love perfected with us, so that we may have confidence for the day of judgment, because as he is so also are we in this world.
(ESV)