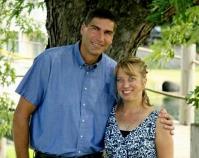 Bob Schultz, November 8, 2015
Part of the
Sunday Messages
series, preached at a
Sunday Morning
service
This Sunday we will concentrate on the subject of being thankful as we partake of our Thanksgiving potluck meal. As Individual Christians and as the church, we should take this subject very seriously because to be thankful is to be in the will of God. To not be thankful is to be out of the will of God.
Pray for our day in church that God would be glorified as the Holy Spirit moves all of us to an attitude of being thankful in everything.
1 Thessalonians 5:17–18 (Listen)
17 pray without ceasing, 18 give thanks in all circumstances; for this is the will of God in Christ Jesus for you.
(
Luke 17:11 (Listen)
11 On the way to Jerusalem he was passing along between Samaria and Galilee.
(ESV)
2 Corinthians 9:15 (Listen)
15 Thanks be to God for his inexpressible gift!
(ESV)