Our God-Breathed Bible - Part 3 (2 Peter 1:19-21, Psalm 19:7-11)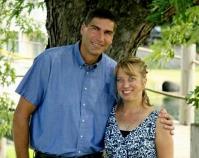 Bob Schultz, April 1, 2012
Part of the
2 Peter
series, preached at a
Sunday Morning
service
Today we will study six spiritual statements the Bible says about itself and their applications, proving the Bible is from God, not men, so that we would take heed to what it says. A word of personal reflection v.10-11. Do you love God's Word more than money or food like the writer of Psalm 19? Not only does the Bible warn us, it rewards those who take heed to what it says.

2 Peter 1:19–21 (Listen)
19 And we have the prophetic word more fully confirmed, to which you will do well to pay attention as to a lamp shining in a dark place, until the day dawns and the morning star rises in your hearts, 20 knowing this first of all, that no prophecy of Scripture comes from someone's own interpretation. 21 For no prophecy was ever produced by the will of man, but men spoke from God as they were carried along by the Holy Spirit.
(
Psalm 19:7–11 (Listen)
7 The law of the LORD is perfect,
reviving the soul;
the testimony of the LORD is sure,
making wise the simple;
8 the precepts of the LORD are right,
rejoicing the heart;
the commandment of the LORD is pure,
enlightening the eyes;
9 the fear of the LORD is clean,
enduring forever;
the rules of the LORD are true,
and righteous altogether.
10 More to be desired are they than gold,
even much fine gold;
sweeter also than honey
and drippings of the honeycomb.
11 Moreover, by them is your servant warned;
in keeping them there is great reward.

(ESV)