The Lord's Supper (1 Peter 3:15, Psalm 39:5-6, Psalm 144:4, James 4:14)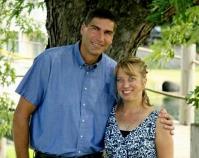 Bob Schultz, August 21, 2016
Part of the
Sunday Messages
series, preached at a
Sunday Morning
service
Today, I want to share two spiritual lessons that will form a wonderful Communion meditation. The need for Christians to speak to others about why they're Christians (1 Peter 3:15). The urgency of the passing of time (Psalm 39:5-6, Psalm 144:4, James 4:14). Let us think deeply before we partake of the Lord's Supper about the only hope we have related to forgiven sin and defeating the grave - the cross and resurrection of Jesus Christ.
1 Peter 3:15 (Listen)
15 but in your hearts honor Christ the Lord as holy, always being prepared to make a defense to anyone who asks you for a reason for the hope that is in you; yet do it with gentleness and respect,
(
Psalm 39:5–6 (Listen)
5 Behold, you have made my days a few handbreadths,
and my lifetime is as nothing before you.
Surely all mankind stands as a mere breath! Selah
6 Surely a man goes about as a shadow!
Surely for nothing they are in turmoil;
man heaps up wealth and does not know who will gather!

(ESV)
Psalm 144:4 (Listen)
4 Man is like a breath;
his days are like a passing shadow.

(ESV)
James 4:14 (Listen)
14 yet you do not know what tomorrow will bring. What is your life? For you are a mist that appears for a little time and then vanishes.
(ESV)