The Lord's Supper (Psalm 51:1-4)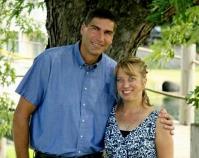 Bob Schultz, June 10, 2012
Part of the
Sunday Messages
series, preached at a
Sunday Morning
service
Today we will study four heart attitudes that must be
present when we come to the Lord's Table so that we would partake in a worthy manner.

Psalm 51:1–4 (Listen)
To the choirmaster. A Psalm of David, when Nathan the prophet went to him, after he had gone in to Bathsheba.
51:1 Have mercy on me, O God,
according to your steadfast love;
according to your abundant mercy
blot out my transgressions.
2 Wash me thoroughly from my iniquity,
and cleanse me from my sin!
3 For I know my transgressions,
and my sin is ever before me.
4 Against you, you only, have I sinned
and done what is evil in your sight,
so that you may be justified in your words
and blameless in your judgment.

(