The Theology of Comfort part 4 (2 Corinthians 1:8-11)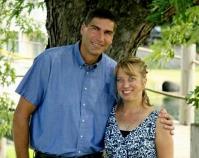 Bob Schultz, September 20, 2020
Part of the
II Corinthians
series, preached at a
Sunday Morning
service
Today we conclude our series on God's comfort by considering the ultimate reason for affliction.
2 Corinthians 1:8–11 (Listen)
8 For we do not want you to be unaware, brothers, of the affliction we experienced in Asia. For we were so utterly burdened beyond our strength that we despaired of life itself. 9 Indeed, we felt that we had received the sentence of death. But that was to make us rely not on ourselves but on God who raises the dead. 10 He delivered us from such a deadly peril, and he will deliver us. On him we have set our hope that he will deliver us again. 11 You also must help us by prayer, so that many will give thanks on our behalf for the blessing granted us through the prayers of many.
(