Glory & Growth part 3 (Philippians 3:12-16)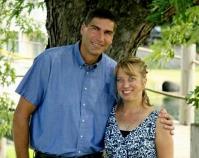 Bob Schultz, April 18, 2021
Part of the
II Corinthians
series, preached at a
Sunday Morning
service
Today we think about our progressive sanctification in the language of pressing on toward the goal for prize of the upward call of God-which is Christlikeness.
Philippians 3:12–16 (Listen)
12 Not that I have already obtained this or am already perfect, but I press on to make it my own, because Christ Jesus has made me his own. 13 Brothers, I do not consider that I have made it my own. But one thing I do: forgetting what lies behind and straining forward to what lies ahead, 14 I press on toward the goal for the prize of the upward call of God in Christ Jesus. 15 Let those of us who are mature think this way, and if in anything you think otherwise, God will reveal that also to you. 16 Only let us hold true to what we have attained.
(