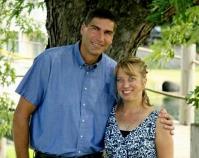 Bob Schultz, October 17, 2021
Part of the
II Corinthians
series, preached at a
Sunday Morning
service
Today we will study the reality of the certainty of the future heavenly resurrection body.
2 Corinthians 5:1–5 (Listen)
5:1 For we know that if the tent that is our earthly home is destroyed, we have a building from God, a house not made with hands, eternal in the heavens. 2 For in this tent we groan, longing to put on our heavenly dwelling, 3 if indeed by putting it on we may not be found naked. 4 For while we are still in this tent, we groan, being burdened—not that we would be unclothed, but that we would be further clothed, so that what is mortal may be swallowed up by life. 5 He who has prepared us for this very thing is God, who has given us the Spirit as a guarantee.
(