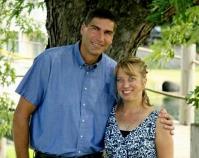 Bob Schultz, February 6, 2022
Part of the
II Corinthians
series, preached at a
Sunday Morning
service
Today we begin to think about the ministry of reconciliation as the Bible speaks of new creations in Jesus Christ.
2 Corinthians 5:16–17 (Listen)
16 From now on, therefore, we regard no one according to the flesh. Even though we once regarded Christ according to the flesh, we regard him thus no longer. 17 Therefore, if anyone is in Christ, he is a new creation. The old has passed away; behold, the new has come.
(