Restoration & Repentance (2 Corinthians 7:5-10)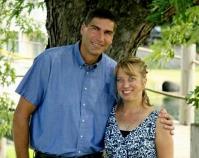 Bob Schultz, September 4, 2022
Part of the
II Corinthians
series, preached at a
Sunday Morning
service
Today we will consider Paul's renewed relationship with the Corinthians and the juxtaposition of Biblical repentance and worldly sorrow.
2 Corinthians 7:5–10 (Listen)
5 For even when we came into Macedonia, our bodies had no rest, but we were afflicted at every turn—fighting without and fear within. 6 But God, who comforts the downcast, comforted us by the coming of Titus, 7 and not only by his coming but also by the comfort with which he was comforted by you, as he told us of your longing, your mourning, your zeal for me, so that I rejoiced still more. 8 For even if I made you grieve with my letter, I do not regret it—though I did regret it, for I see that that letter grieved you, though only for a while. 9 As it is, I rejoice, not because you were grieved, but because you were grieved into repenting. For you felt a godly grief, so that you suffered no loss through us.
10 For godly grief produces a repentance that leads to salvation without regret, whereas worldly grief produces death.
(