Paul's Final Words (2 Corinthians 13:7-14)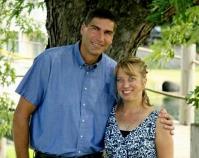 Bob Schultz, May 21, 2023
Part of the
II Corinthians
series, preached at a
Sunday Morning
service
Today we come to conclusion in our study of II Corinthians as Paul prays for his people to be complete in Christ.
2 Corinthians 13:7–14 (Listen)
7 But we pray to God that you may not do wrong—not that we may appear to have met the test, but that you may do what is right, though we may seem to have failed. 8 For we cannot do anything against the truth, but only for the truth. 9 For we are glad when we are weak and you are strong. Your restoration is what we pray for. 10 For this reason I write these things while I am away from you, that when I come I may not have to be severe in my use of the authority that the Lord has given me for building up and not for tearing down.
11 Finally, brothers, rejoice. Aim for restoration, comfort one another, agree with one another, live in peace; and the God of love and peace will be with you. 12 Greet one another with a holy kiss. 13 All the saints greet you.
14 The grace of the Lord Jesus Christ and the love of God and the fellowship of the Holy Spirit be with you all.
(