The Christ of Christmas - Part 4 (John 10:11, John 10:14, John 10:4, John 10:28)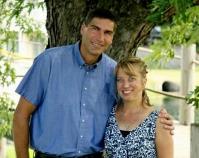 Bob Schultz, December 28, 2014
Part of the
Advent
series, preached at a
Sunday Morning
service
This week we will conclude our study titled, "The Christ of Christmas" with a look at Jesus as our Great Shepherd; who laid down His life for the sheep, knows the sheep, guides the sheep, and protects and preserves the sheep. May we grasp the Christ of Christmas for the glory of God.
John 10:11 (Listen)
11 I am the good shepherd. The good shepherd lays down his life for the sheep.
(
John 10:14 (Listen)
14 I am the good shepherd. I know my own and my own know me,
(ESV)
4 When he has brought out all his own, he goes before them, and the sheep follow him, for they know his voice.
(ESV)
John 10:28 (Listen)
28 I give them eternal life, and they will never perish, and no one will snatch them out of my hand.
(ESV)