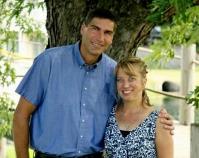 Bob Schultz, February 10, 2013
Part of the
2 Thessalonians
series, preached at a
Sunday Morning
service
We continue our study in II Thessalonians 2 as we prepare our hearts for the Lord's Table. The theme of our passage will be encouragement, comfort, and hope that is found only in God Himself. All of us have something in common with the Thessalonians and every other Christian; at the deepest level we are suffering – living in sinful body in a sinful world. This passage speaks about the eternal comfort that is found in God even when our earthly circumstances are uncomfortable.
2 Thessalonians 2:16–17 (Listen)
16 Now may our Lord Jesus Christ himself, and God our Father, who loved us and gave us eternal comfort and good hope through grace, 17 comfort your hearts and establish them in every good work and word.
(