Believing, Loving, Abiding (1 John 3:23-24)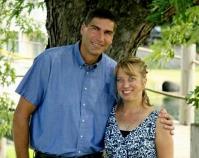 Bob Schultz, May 17, 2020
Part of the
I John
series, preached at a
Sunday Morning
service
Today we will think deeply about God's command to believe the gospel, to love, and the reality that the Holy Spirit abides in us.
1 John 3:23–24 (Listen)
23 And this is his commandment, that we believe in the name of his Son Jesus Christ and love one another, just as he has commanded us. 24 Whoever keeps his commandments abides in God, and God in him. And by this we know that he abides in us, by the Spirit whom he has given us.
(