Paul's Ministry Defense part 3 (2 Corinthians 1:21-2:4)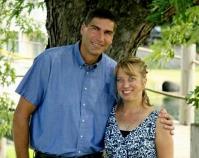 Bob Schultz, October 18, 2020
Part of the
II Corinthians
series, preached at a
Sunday Morning
service
Today Paul gives the reason why he did not come to Corinth when he said he would, and shares the heart of a true Pastor.
2 Corinthians 1:21–2:4 (Listen)
21 And it is God who establishes us with you in Christ, and has anointed us, 22 and who has also put his seal on us and given us his Spirit in our hearts as a guarantee.
23 But I call God to witness against me—it was to spare you that I refrained from coming again to Corinth. 24 Not that we lord it over your faith, but we work with you for your joy, for you stand firm in your faith.
2:1 For I made up my mind not to make another painful visit to you. 2 For if I cause you pain, who is there to make me glad but the one whom I have pained? 3 And I wrote as I did, so that when I came I might not suffer pain from those who should have made me rejoice, for I felt sure of all of you, that my joy would be the joy of you all. 4 For I wrote to you out of much affliction and anguish of heart and with many tears, not to cause you pain but to let you know the abundant love that I have for you.
(