Paul's Ministry Defense part 2 (2 Corinthians 1:15-20)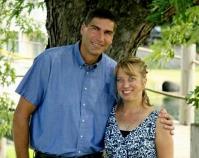 Bob Schultz, October 11, 2020
Part of the
II Corinthians
series, preached at a
Sunday Morning
service
Paul continues defending his apostolic ministry using God Himself and the collective Amen of his preaching and the preaching of Silvanus and Timothy.
2 Corinthians 1:15–20 (Listen)
15 Because I was sure of this, I wanted to come to you first, so that you might have a second experience of grace. 16 I wanted to visit you on my way to Macedonia, and to come back to you from Macedonia and have you send me on my way to Judea. 17 Was I vacillating when I wanted to do this? Do I make my plans according to the flesh, ready to say "Yes, yes" and "No, no" at the same time? 18 As surely as God is faithful, our word to you has not been Yes and No. 19 For the Son of God, Jesus Christ, whom we proclaimed among you, Silvanus and Timothy and I, was not Yes and No, but in him it is always Yes. 20 For all the promises of God find their Yes in him. That is why it is through him that we utter our Amen to God for his glory.
(