Grace Giving part 2 (2 Corinthians 8:9-16)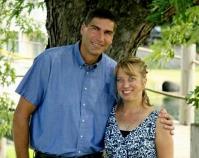 Bob Schultz, September 25, 2022
Part of the
II Corinthians
series, preached at a
Sunday Morning
service
Today we continue to think deeply about the subject of Christian giving based on God's grace given to us.
2 Corinthians 8:9–16 (Listen)
9 For you know the grace of our Lord Jesus Christ, that though he was rich, yet for your sake he became poor, so that you by his poverty might become rich. 10 And in this matter I give my judgment: this benefits you, who a year ago started not only to do this work but also to desire to do it. 11 So now finish doing it as well, so that your readiness in desiring it may be matched by your completing it out of what you have. 12 For if the readiness is there, it is acceptable according to what a person has, not according to what he does not have. 13 For I do not mean that others should be eased and you burdened, but that as a matter of fairness 14 your abundance at the present time should supply their need, so that their abundance may supply your need, that there may be fairness. 15 As it is written, "Whoever gathered much had nothing left over, and whoever gathered little had no lack."
16 But thanks be to God, who put into the heart of Titus the same earnest care I have for you.
(